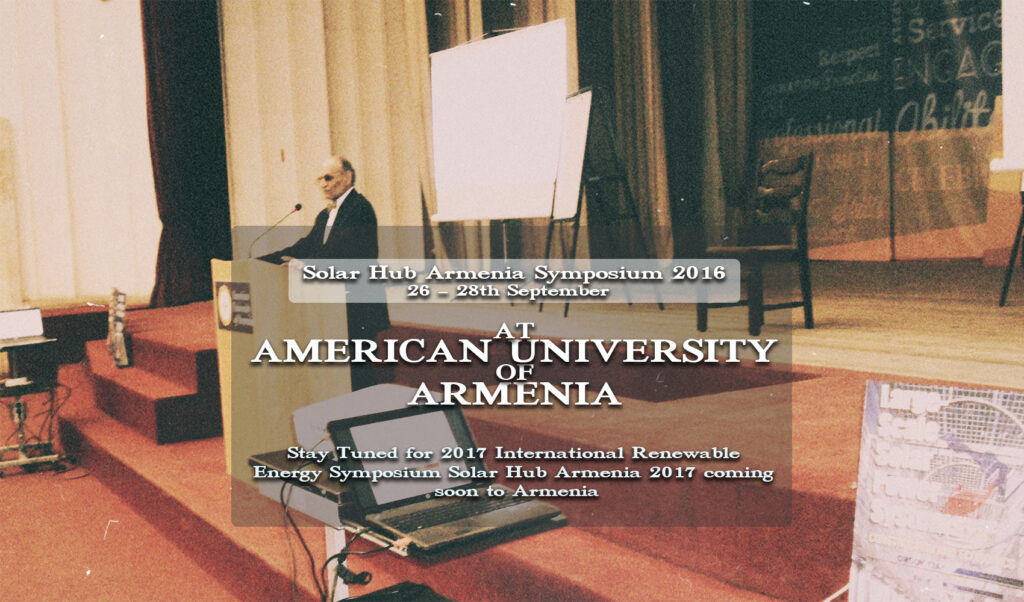 read the content in other languages
RUSSIAN     PERSIAN     ARMENIAN
LIVE STREAM
Our mission is to lay the foundations of renewable power generation technologies in Armenia by promoting advanced education in sciences and engineering accreditation  in nations universities, and promote development of renewable energy technology research and product development hub in the region. The overall worldwide growth potential of the renewable power and Armenia's need in development of a high tech value creation chain is an historical opportunity window that may allow Armenia to become one of the players in  science, technology and engineering regarding the renewable energy field.

Watch us on YouTube!
…
September 2016 AUA Symposium Presentation Content
26-28 September 2016, 9.00 am-6.00 pm(Armenian time)/08.00 pm – 05.00 am (USA, California time)
2016 AUA Workshop on Rooftop & Building-Integrated Solar Photovoltаic Power Generation
Days
Morning session Topics
Afternoon session Topics
Files for downloading
DAY 1
• Energy systems and entropy
• Climate change and global warming
• Introduction to solar physics
• Introduction to photovoltaic system applications
• Introduction to solar photovoltaic technologies
• Introduction to solar power technology design
• Introduction to solar power system feasibility study
• Introduction to grid connected solar power systems
• Building integrated solar power systems
DOWNLOAD TOPIC "GLOBAL WARMING"
DOWNLOAD TOPIC " LAWS OF THE UNIVERSE"
LARGE SCALE GRID SOLAR P-SYSTEMS
DAY 2
• Overview of grid integrated solar power systems
• Typical solar power system installations
• Overview of solar power system engineering design principles
• Photovoltaic solar power system construction and project management
• Concentrated photovoltaic technologies
• Environmental negative impact on solar power energy production
• Overview of conventional and smart power transmission systems
• Overview of large scale solar power system planning, issues and solutions
SOLAR PHOTOVOLTAIC SYSTEM COMPONENTS
PHOTOVOLTAIC POWER SYSTEMS FEASIBILITY STUDY
SOLAR POWER SYSTEM DESIGN
DAY 3
• Large scale solar power system planning and acquisition
• Solar power system energy production management
• Overview of large scale solar power economics
• Power purchase agreement and legal issues
• Significance of global solar power energy production
• Importance of advanced degree program in Renewable and Solar Power Energy Technologies
• Importance of photovoltaic technology development in Armenia
• Audience specific topics of discussion
• Workshop question and responses
SIGNIFICANCE of SOLAR POWER TECHNOLOGY DEVELOPMENT
This is the September 2016 AUA symposium presentation content. In view of the majority of native attendants, the presentation as per directive of AUA has been specifically arranged to emphasize residential and building integrated systems, however to lesser extent, it will also cover grid connected industrial and large scale solar power generation.
In view of the fact that Armenia is in introductory stages of solar power generation deployment, the presentation will be principally tailored for non-technical audience. Roster of contents outlined below are tentative and could be revised by AUA if so needed.
…
For more details click here.

---
---
 – – – OUR SPONSORS – – –