Mark Ruffalo Delivers Mobile Solar Trailers to Standing Rock Camps in Preparation for Harsh Winter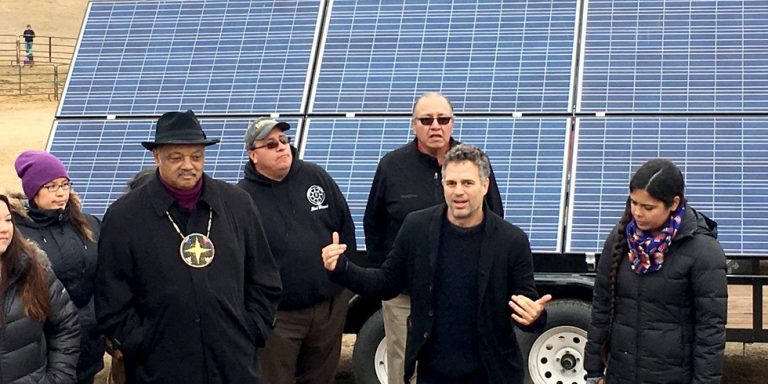 Cannon Ball, ND – In a show of kindness and solidarity with the Standing Rock Sioux, actor Mark Ruffalo and Native Renewables founder Wahleah Johns presented Sioux tribal elders with mobile trailers equipped with solar collection arrays. The trailers provide a clean energy source for the protest encampment where over 500 Native American tribes have taken a stand against the Dakota Access Pipeline in the largest gathering of American Indians in modern history.
"This pipeline is a black snake that traverses four states and 200 waterways with fracked Bakken oil," said Ruffalo, co-founder of The Solutions Project, a venture that works to transition society to clean and renewable energy.
"We know from experience that pipelines leak, explode, pollute and poison land and water. But it doesn't have to be that way."
Read more at http://thefreethoughtproject.com/mark-ruffalo-delivers-solar-standing-rock/#OwOH0cscqCxF97Q7.99